Fly and Drive Costa Rica Unlimited
14 Nights /15 Days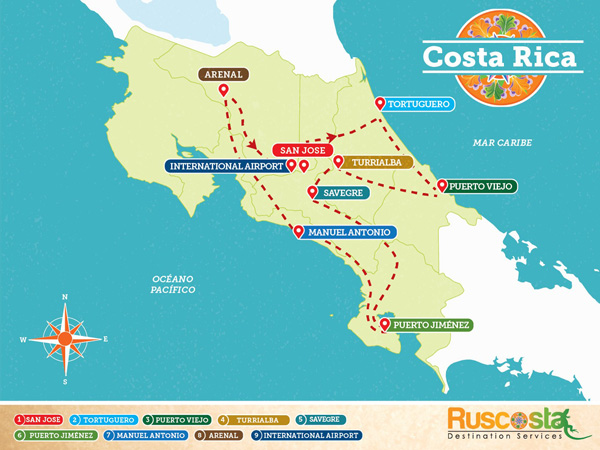 Day 1
Arrive in San José where one of our representatives, will assist you and provide the transfer, to the capital where you will stay at the San Jose Hotel.





Regular transfer Included

Who wouldn't want to spend the perfect vacation in a paradise like Costa Rica?

San José is the capital and largest city of Costa Rica. Located in the Central Valley, in the western province of the country, San José is the seat of national government, the focal point of political and economic activity, and the major transportation hub of this Central American nation. The population of San José Canton is 288,054, though the metropolitan area stretches beyond the canton limits and comprises a third of the country's population. It is named in honor of Joseph of Nazareth.

Though few people live in the city center, it is the most important working area of the country, which brings in more than a million people daily. Despite its problems, according to studies in Latin America, San José is still one of the safest and least violent cities in the region.[4] In 2006, the city was appointed Ibero-American Capital of Culture.





Standard Room 1 Night /BB
Days 2-3 Tortuguero National Park
Land and water transfers are included in the program for this portion of the program.

This is one of the few Costa Rican National Parks where walking quietly isn't necessarily the best way to see things. The marked trail along the beach is used mostly for observing turtle nesting, but the best way to see most of the park is from a boat. That doesn't mean you can't get a workout while nature watching; there are plenty of places to rent canoes and kayaks (cayucas or botes). The exceptionally high rainfall and rich environment where the freshwater meets the sea makes the beaches, canals, lagoons and wetlands of Tortuguero areas of exceptional biodiversity and opportunity for nature lovers.

Tour to Tortuguero National Park is included (Entrance Fee $15 not Included).

Tour to Tortuguero Village is included.





Package 3Days 2Nights Full Board. All meals (breakfast, lunch & dinner). Standard Room.
Day 4 Rental Car Delivery
At your arrival to a meeting point a person from the rental car will be waiting for you to make the delivery of your rented car. Basic Insurance included which is mandatory; you can also apply for the full cover at the moment of the delivery.11 Days of rental included.



Days 4-5 Puerto Viejo Area
There was a time when the only travelers to the little seaside settlement once known as Old Harbor were intrepid surfers who padded around the quiet, dusty streets, board under arm, on their way to surf Salsa Brava. That, certainly, is no longer the case. This burgeoning party town is bustling with tourist activity: street vendors ply Rasta trinkets and Bob Marley T-shirts, stylish eateries serve global fusion everything and intentionally rustic bamboo bars pump dancehall and reggaetón. Puerto Viejo nonetheless manages to hold on to an easy charm. Stray a couple of blocks off the main commercial strip and you might find yourself on a sleepy dirt road, savoring a spicy Caribbean stew in the company of local families. Nearby, you'll find rainforest fruit and cacao farms set to a soundtrack of cackling birds and croaking frogs, and wide-open beaches where the daily itinerary revolves around surfing and snoozing. So, chill a little. Party a little. Eat a little. You've come to just the right place.





Standard Room 2 Nights /BB
Day 6-7 Turrialba Area
A quiet town, Turrialba with its charming street corners and gorgeous surrounding sceneries is among the few places in Costa Rica with direct access to a volcano's crater. From the summit of the volcano, you can on a clear day, see the Irazu, Poas and Barva volcanoes in the distance. Among the most rarely visited national parks in Costa Rica, the Turrialba Volcano National Park is home of the active Turrialba Volcano, whose last major eruption occurred in 1866. The volcano itself is only 15 km northwest of town. However, it is safe to climb, and though the facilities at the park are rather meager, it is still a worthwhile trip.





Standard Room 2 Nights / BB
Day 8 – Santa Maria de Dota Area
The small mountain town of Santa Maria de Dota may be less congested than larger cities, but it is home to some of the best destinations in Costa Rica. Boasting the best coffee in the country, some of the most intense hiking and eclectic array of bird species, Santa Maria de Dota is ideal for independent travelers or familiesSanta Maria sits along the mountainous highlands of south-central Costa Rica, and is about 40 miles south of San Jose.Travelers who want to get up close and personal with Costa Rica wildlife should look no further. Throughout Santa Maria de Dota, there are more than 200 bird species, making it an ideal spot for bird watching. The high elevation of the town attracts woodpeckers, warblers, falcons, owls and quetzal - just to name a few! If you're a true ornithology fanatic, look to plan your trip in April or May, when bird watching is at its prime.





Standard Room 1 Night / BB
Days 9-10-11 Puerto Jiménez Area
Puerto Jimenez is a genuine rootintootin frontier town located on the Osa Peninsula. The pueblo itself is divided on a grid of dusty dirt roads where one will find a wide variety of bars with a modern day saloon feel. Of course, there are also plenty of little sodas (mom and pop restaurants) and little shops. Most people travel to Puerto Jimenez on their way to Corcovado National Park and use it as a place to fill their canteen or stock up on supplies. The town is the last piece of civilization before entering into one of the world's wildest jungles.





Standard Room 3 Nights / BB
Days 12- Manuel Antonio Area
Manuel Antonio is the most popular town at the south pacific. One reason for this is the unspoiled beaches that lie within easy walking distance of the entrance station of Manuel Antonio National Park. The overhanging palms are a refreshing break from the bars, discos, hotels and restaurants surrounding the park.

Besides the spectacular beaches, Manuel Antonio offers several kilometers of very well maintained trails offering the easiest access in Costa Rica to the lowland rainforest.





Standard Room 1 Nights /BB
Days 13–14 Arenal Area
A great Costa Rica vacation is waiting for you in a hot springs hotel featuring a really big natural outdoor area, which is both the largest piece of land among hotels in the zone and the very next to Arenal Volcano itself!, with an unique and wide range of services and facilities for the enjoyment of the volcano spectacular closest safe view, Costa Rica culture, people and cuisine, as well as the tropical rainforest flora & fauna. So be happy and let the natural hot springs by the Arenal volcano internal healthy energy & minerals complements all of your Costa Rica Vacation package activities, such that those into the nature or adventure tours.





Standard Room 2 Nights /BB
Day 15–Arenal Area – International Airport
Last day you have to return your rental at the agree place at the airport.

We would like to remind you that you have to be at the airport 3 hours before your flight departure. And as Costa Rican said "PuraVida" have safe trip back home.
Package Included:
14Nights of Lodging.
11 Days of Car Rentalmentioned in the program. Basic Insurance included.
Meals mentioned in the program description are included.
Tours mentioned in the program description are included.
Hotel and tours Taxes are included.
Package Do Not Included:
Any Meals not mentioned in the program.
Tortuguero National Park Entrance Fee is not included ($15 per person).
Any other tour not mentioned in the program.
Costa Rica Departure Taxes (29 USD per Person).
Tips are not included.
Reservations Conditions:
Payment of 30% must be made to ensure the reservation of the services.
Hotel Reservations are subject to availability at the moment of the request.
Due to the above condition price may change at the moment of the reservation request.
Total payment must be done 45 days prior client arrival.